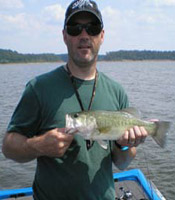 Matt Keith's Page.
Scroll down to see a list of all of my Articles and Blog Posts !
My Fishing Bio:
I am originally from Northern California, but now live in Memphis, TN.
I have been fishing since I was a kid. I fished for any fish anywhere. (Even Saltwater !) Once I started Bass Fishing I was Hooked on it! I currently fish with a local Bass Club out of DeSoto County Mississippi that fishes Mississippi, Tennessee, Arkansas, and Alabama.
Fish Hard, but have Fun !!
- Matt Keith
You can read all of my Blog Posts here: