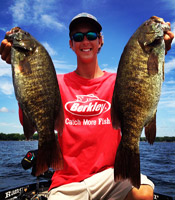 Chad Smith's Page.
Scroll down to see a list of all of my Articles and Blog Posts !
My Fishing Bio:
My name is Chad Smith and I have been trying to dedicate my life to fulfilling my dream of becoming a professional bass fisherman.
I have grown up with a passion to catch bass my whole life and want to figure out how to make it my career. I have been tournament fishing for a solid four years now and continue to grow and learn each year. I fish for the Winona State University Bass Fishing Team and fish in many local tournament circuits. With college fishing we compete in the FLW College Tour, Bassmaster College Series, and Boat U.S. Opens. I have also fished in a few Bassmaster Open tournaments as a Co- Angler.
In my blog I will discuss up to date techniques that are working for me, lay out tournament tactics, product reviews, and overall basics of bass fishing.
Chad Smith
You can read all of my Blog Posts here: