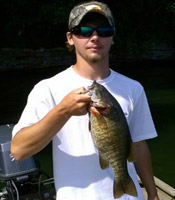 Nathan George's Page.
Scroll down to see a list of all of my Articles and Blog Posts !
My Fishing Bio:
My name is Nathan George. I'm 19 years old and live in Ashville, AL.
I attend and fish for Gadsden State Community College. We fish the BASS Carhartt College Series and the Fishlife Collegiate Trail. I've been fishing since I was big enough to hold a rod and reel. I have never won any huge tournaments, although i have won some smaller ones. Fishing is my life and always will be apart of me. My strengths would have to shallow fishing, whether it be flipping, topwater, crankbait or anything really. My weakness would have to be deep ledge fishing, but I hope to perfect that aspect here soon. I fish in Alabama, but have been to Florida on Lake Okeechobee once.
Sincerely,
Nathan George
You can read all of my Blog Posts here: