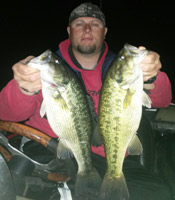 Charles Hobbs' Page.
Scroll down to see a list of all of my Articles and Blog Posts !
My Fishing Bio:
My name is Charles B Hobbs. I'm 34 years old and I have been fishing since I could walk.
I learned the sport from my dad.
I am on the water at least 3 times a week trying to make myself better. One day I hope to get a break and to do it full time.
I'm a boat captain for a high school fishing team (East Gaston Bass warriors) I love teaching the kids the sport of bass fishing and showing them it is not about winning every tournament. I love to compete in a lot of team trail in NC and SC and also fish BFL and benefit tournaments.
My sponsor are STH graphics, Tatter Hog custom lures, and Hooker Custom Lures.
Charles B Hobbs
You can read all of my Blog Posts here: